In 2011-2012, while living in Scotland, I  maintained a blog entitled 'Edinburgh Sojourn'. Sometimes I published a post a day for several days, then nothing for a few weeks. I wanted to share my experiences with friends, and to keep some sort of permanent record for myself. One of those posts recently got a comment, so I know the blog is still being read.
Now that I'm 'retired' (still figuring out what that means, so this blog may touch on that from time to time), I want to make more time to write (interspersed with research for new books, knitting, soapstone carving, and travel). I hope you find my posts entertaining, thought-provoking, or even just an enjoyable diversion.
PUBLICATIONS
Mona Parsons – from privilege to prison, from Nova Scotia to Nazi Europe. 2017. ISBN 9781771085618
"Doing a man's work with more than a man's capability" – Katherine Bell Fraser & the Armenian Massacres 1892-1896 (pending autumn 2021 with Nimbus Publishing)
A Mother's Road to Kandahar. Pottersfield Press, 2008.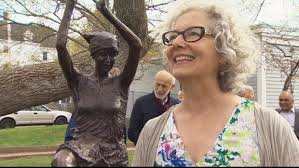 About Andria Hill - Lehr
Andria Hill-Lehr is a freelance writer and author of two non-fiction books: Mona Parsons: From Privilege to Prison, from Nova Scotia to Nazi Europe (Nimbus Publishing, 2017) and A Mother's Road to Kandahar (Pottersfield Press, 2008).
She is also a Registered Counselling Therapist and entertaining public speaker offering informative workshops on a variety of topics, including mental wellness in the workplace, pre-retirement preparation (not a finance workshop), humour, conflict, change, and stress.
For Media & Press Inquiries
+44 737 652 3347