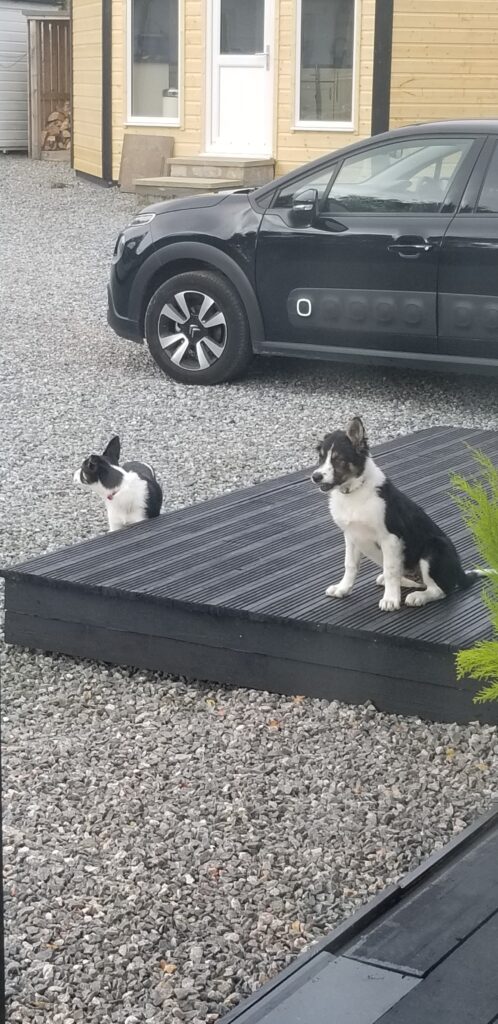 We looked forward to our first trip after easing of Covid-19 lockdown restrictions. Ironically, as we left Edinburgh, news reports said that local lockdowns were necessary in parts of England and Wales, and that the virus was on the increase in parts of Scotland, with local lockdowns imminent. We felt fairly confident that we could get out of the city to an area in the Highlands with almost no cases, enjoy our first adventure since lockdown started in March, undertake minimal risks, and return home five days later before any significant up-tick in numbers.
The sat-nav in our rental vehicle seemed to know that we wished to avoid major routes as much as possible, and duly took me down some interesting and narrow tracks. I was quite happy to be behind the wheel of a car again (first time since last November), and looked forward to our Air BnB booking at a place called "The Meadows" in Auldearn, near Nairn. Unfortunately, the vehicle's sat-nav didn't recognise the address we entered and took us first to a lovely little house with pretty gardens and a manicured lawn. The trembling of the curtain at the front window was my first indication that not only was I in the wrong place, but the occupant had experienced this mix-up more than once. Upon asking about our host, Steve, however, she claimed ignorance.
Auldearn isn't a large place, so I figured that if I drove around for a bit, we'd find Steve and Wanda's place. Besides, I'd phoned him when we realised we were in the wrong place, so it wouldn't take long before we found our destination. A few minutes later, we saw a sign for "The Meadows" and turned up a long driveway bordered by a hedge on one side and a sprawling lawn manicured by a robotic mower. At the town's edge, we knew this would be a quiet cottage.
I caught sight of two black and white figures on the lawn as I drove up. They didn't move, so I concluded they were lawn ornaments, perhaps. I navigated the vehicle to the cottage behind the main property, and backed it into a parking place. As I engaged the parking brake, I saw two black and white heads peer 'round the corner of the main house, ears cocked. As I opened the door, the ears flattened against the two heads and the dogs launched themselves across the gravel drive. Their trajectory was not exactly a beeline, mainly because their furiously-wagging tails impeded a their navigation in a straight-line. Besides, they were puppies, and their tail-wagging dance of joy accentuated their puppy clumsiness.
First impressions are important upon arriving at your Air BnB. Having two 14-week old Border Collie puppies race to your car and turn themselves into bouncing, wriggling knots of gleeful, enthusiastic puppiness made for an excellent first impression. And when you discover that your hosts are quite happy to leave said puppies in your company, well – they could have put us in a barn and I would have been happy.
But "The Meadows" is far from a barn. A cozy, well-appointed cottage with a fabulously comfortable bed, it is one of the best-equipped Air BnBs I've ever stayed in. No, it is THE best I've ever stayed in. Everything – from the appliances to the bedding and linen – is top-quality. And the hosts – Steve and Wanda – are warm, attentive, and funny, with excellent suggestions of what to do and see while in Auldearn. And there's a LOT. So, if you want a couple of quiet days with some beach walks and an excellent cup of coffee (Wendy's Hoose), then there's Nairn. If you want to venture further afield, then there's Brodie Castle and Countryfare (just before the Castle), and there's Cawdor Castle. Auldearn Antiques in Auldearn offers up some treasures with prices that almost make the additional cost of shipping to Canada a cheaper option than buying in Canada. Within half an hour, you can be in Inverness with a visit to the battlefield at Culloden (which is on my "highly recommended" list), and just a bit further on, you can visit Urquhart Castle and take in a cruise on Loch Ness. Even without a glimpse of Nessie, it's well worth your while.